550 Vandalia St. St. Paul
At the old King Koil mattress factory, location is now what's king. Vandalia Tower sits on 5.5 acres at 550 Vandalia Street just north of 94 and south of University Avenue where the new Central corridor light rail will connect Minneapolis and St. Paul. It's a turn-of-the-century, mostly brick campus of seven buildings and an old water tower. A complete renovation currently in progress will respect the history and architecture of the buildings while adding significant updates that will make it a vital and inspiring place to work today.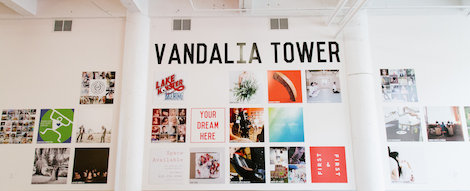 A renovation underway has transformed this once warehouse space into a dynamic home for the creative class. Lake Monster Brewery, Independent Film Maker Project, Munster Rose, Hackwith Design, Union Park Marketing and a many more creative entrepreneurs call Vandalia Tower home. The large, inspiring spaces make it ideal for any company interested in eclectic, historic workspaces over cubicles. The transformation is stunning, but not yet complete. Stay tuned.